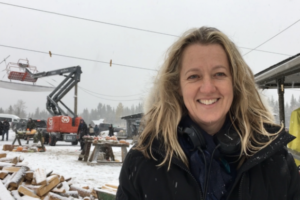 Melbourne director Kate Dennis, now based in the US, has continued to triumph with an Emmy nomination for The Handmaid's Tale. This article by IF Magazine's Don Groves talks about her dilemmas in choosing the projects she will work on after being deluged with offers of work.
Dennis continues to work in Australia as well, having directed Queensland based but global focussed Harrow, a co-production with ABC and Disney-owned ABC Studios International, which screens in Australian on March 9, according to Groves.
See article here:
Kate Dennis, go-to director for US networks, lands another US gig
Kate Dennis, go-to director for US networks, lands another US pilot
12 February, 2018 by Don Groves INSIDEFILM
If there were an award for the hardest working, most travelled and in-demand
Australian director in US and international TV drama, Kate Dennis would be a prime
candidate. Next month in New York she starts shooting an untitled, character-driven
medical drama for NBC that follows the maverick director of the city's Bellevue
Hospital, her seventh US pilot which also happens to be the first shot on US soil.
Her burgeoning career got an adrenaline shot last year when she was nominated for a
prime-time Emmy for The Handmaid's Tale after directing episodes of multiple
series including Fear the Walking Dead, CSI: Cyber, Suits and TURN:
Washington's Spies.
Last year Dennis was the set-up director of Harrow, Hoodlum's 10-part crime
drama commissioned by the ABC and Disney-owned ABC Studios International,
which premieres in Oz on March 9.
Ioan Gruffudd plays Dr Daniel Harrow, a forensic psychologist who harbours a dark
secret, alongside Mirrah Foulkes, Remy Hii, Darren Gilshenan, Anna Lise Phillips,
Damien Garvey, Ella Newton, Hunter Page-Lochard and Robyn Malcolm.
Dennis was directing an episode of Marvel/Netflix's Jessica Jones when Hoodlum's
Tracey Robertson offered her the gig but she was initially reluctant. "I told Tracey
that procedurals and me are probably not a good mix but I read the script and
thought this one was different and out of the box," she tells IF via Skype from her
home in LA. "It's very character-driven and there is the mystery of the man at its
core. I was very attracted to it."
She created the look and tone of the show co-created by Stephen M. Irwin and Leigh
McGrath with Robert Humphreys, who was the DOP on the first five episodes
(Simon Chapman shot the remainder).
Dennis directed the first episode while Tony Krawitz (The Kettering Incident), Tony
Tilse (Wolf Creek, Underbelly), Daniel Nettheim (Doctor Who, Broadchurch),
Peter Salmon (Doctor Doctor, Rake) each handled two and Catriona McKenzie (The
Warriors) did one.
It was her third collaboration with Hoodlum following Secrets & Lies and the US
remake of the crime series created by the prolific Irwin.
The NBC drama is inspired by Dr. Eric Manheimer's memoir Twelve Patients: Life
& Death at Bellevue Hospital, a facility billed as the only one in the world that can
treat Ebola patients, prisoners from Rikers Island and the US President under one
roof.
She's excited to be collaborating with David Schulner (Desperate Housewives, Trauma, Emerald City), the writer/creator and co- executive producer, and co-executive producer Peter Horton, who set up Grey's Anatomy.
The creative team includes DoP Stuart Dryburgh (who was Oscar-nominated for The
Piano) and production designer Kristi Zea, a frequent collaborator with Martin
Scorsese. She likens the tone to West Wing in a hospital.
Her US credits include I'm Dying Up Here, the Showtime comedy/drama set in the
Los Angeles stand-up scene of the early 1970, which screened here on Stan; Damnation, a 1930s-set drama shot in Calgary about a preacher who rallies the townsfolk in Iowa to stand up against industrialists, which aired on the USA Network and on Netflix internationally; and GLOW, another Netflix show which revolves around US women wrestlers in the 1980s.
She also directed an episode of Heathers, a black comedy inspired by the 1988 movie
of the same name, which will premiere in the US on the Paramount Network on
March 7.
Dennis has just come back from Belfast where she directed Krypton, the story of
Superman's grandfather as he fights for justice on his home planet, for the Syfy
channel. She was much impressed with the super-efficient showrunner, Australian
Cameron Welch.
Asked about the criteria she uses when deciding whether or not to accept offers,
particularly the barrage she has received since the Emmy nomination, she says, "I try
to keep myself out of a genre box. I like taking all sorts of work. It can be a high-risk
way to approach things but luckily it seems to have paid off."