Last week Film Victoria hosted an all-day 2020 Vision Feature Film Forum. It was well attended by local writers, directors and producers.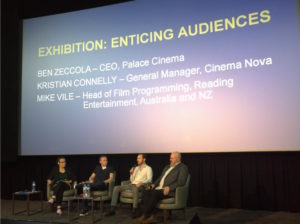 The event provided Film Vic's take on the current state of the local feature film industry. It was an attempt to encourage filmmakers to 'go the extra mile' on script development, as outgoing CEO Jenni Tosi suggested that often scripts go into production before they are ready.
As others have noted such as producer Sue Maslin, this is in part because producers need cashflow to survive. It is difficult for producers to draw cash from government funding agencies during the development phase, which often takes years.
The task for writers in the audience was to take on board the sobering figures dished out over the day and yet remain positive and optimistic enough to put in the necessary work to refine a screenplay to the point where it is as good as it gets.
Over the day, a number of interesting points were made. Kristian Connelly, Manager of the Nova in Carlton, expressed surprise that despite the success of Animal Kingdom (2010), no similar works have emerged. Connelly also thought that New Zealanders have a much more worked-out sense of their national identity than Australians, who struggle with the notion of what it is to be Australian.
The point was also raised that today's female-dominated cinema audiences are provided with few titles that star a strong female character who drives the action. Of course this is as true of the world as it is of Australia.
My final takeaway was a personal one; coming from Singapore, where the focus is so international, I was surprised to hear only about Australia, with a bit of Hollywood tantalisingly added but seeming somehow far away. The words China and India featured on a single slide, a reference to the number of films from these two countries being released on Australian screens.
No mention of 2017's gamechanger and my personal fave, Wolf Warrior 2 (2017) directed by and starring Jing Wu, which managed to gross nearly US$900 million at the Chinese box office earlier this year. The film is set in Africa and 20% is in English as it was hoped to do well internationally. However its triumph with its domestic audience more than made up for its lack of international reach (it took only $2 million in the US).
I asked several of my producer films at the session whether they were thinking of approaching the expanding markets of China and India, but they felt that was too much of a stretch. And yes, despite our multiculturalism we are still a predominantly white Australian (and male) industry. But there is also an increasing number of Chinese and Indians who have settled in Australia, and hundreds of thousands more who come here to study. Can't we access their contacts?
IF's Don Goves has posted these two articles on the day:
PG-rated films are increasingly popular in Oz while frequent moviegoers are going less often